09.04.2021
// A mug that loves you
winter
sonata
mug
japan
coffee
This comes via Popgadget: the Winter Sonata voice cup.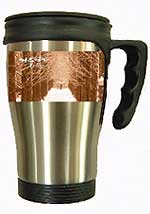 A cup that will whisper sweet nothings to you as you pour in your morning cup of coffee.
Apparently, "Winter Sonata" was a South Korean TV drama with a male star called Bae Yon Joon who's sending middle-aged Japanese women into raptures.

This cup might be rather ugly but as you pour liquid into it, you can hear the show's theme song and the aboved-mentioned Bae Yon Joon whispering "You are the only woman I love. I would love to be with you even after my hair turns gray. I would love to have a baby with your eyes. For you, for our future baby, I offer my warm hands and strong legs to support you. I love you."
I'm not so sure I want a cup that sings to me. Let alone one that says it loves me. But to each their own.