Related entries in
Coffee Education
,
Coffee Reviews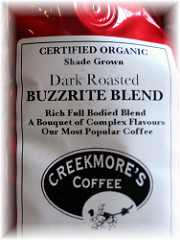 Since I gave up drinking dreck coffee May Long weekend—I did have to make one pot because my kids were sleeping one early morn and I didn't want to wake them with the grinder—my coffee consumption has gone way down, and not really because of the economics of it—though that
is
a factor—but I'm just more satisfied with 1 liter of really good coffee than the similar amount of dreck. Regardless, I do try to wait for the sales at the store to get my favourite coffees. Salt Spring Coffee Co. coffee was on sale a couple weeks ago—not this week though. This week my
second
favourite coffee is on sale, and at a pretty good price too—of course I had
just bought
a bag of it on Sunday and the sale started today, sigh. So, I'm going to buy at least another 400g bag.
My question is, where is the best place to keep it? Especially if I buy two bags, which I might, it might be a month or more before I get to the second bag I buy now—since I just started one Sunday night. I've heard the fridge is bad because it isn't cold enough and the oils go rancid. I'm thinking two months in a cupboard couldn't be good either. What about the freezer? Could I keep the two bags in the freezer until I need one, then take it out and keep it out? I know that the oils on the cold beans don't brew up as nicely—this is from personal experience—kinda like chocolate, frozen or even fridge-cold chocolate just doesn't as good as room temperature chocolate to me.
So coffee experts out there, where should I keep this coffee that I'm not going to get to for a month?