Related entries in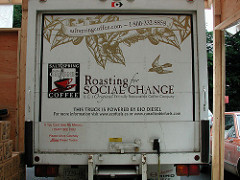 Salt Spring Coffee is not just about organic or fair trade. It's also about the choices made for the environment.
Point: they use Bio Diesel. Not an easy thing to get. And definitely not cheap. But it puts the point into practice.
Roasting for Social Change. Nice.
Technorati Tags: salt spring coffee, biodeisel, coffee, roasting, environmentalism