Related entries in
On Saturday we were at UBC for a conference and noticed a local roaster: The Boulevard Coffee Roasting Co.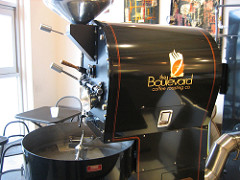 The Boulevard Coffee Roasting Co.
5970 University Boulevard
Vancouver, BC
V6T 1Z3
Ianiv and I both ordered an Americano. The beans used were from Brazil, although the barista didn't know much about them. Boulevard Coffee uses only organic beans, roasted on-site. The owners are students, making this the first student-owned company on campus. Both owners have science backgrounds.
Our review of the cafe itself is quite positive. We enjoyed the atmosphere and design, the use of modern materials, and the display of community art. The service was okay, although the lack of barista education was obvious.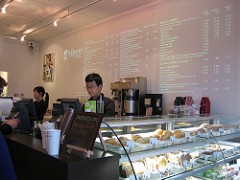 The coffee itself was not the best feature of the cafe. To me, it tasted acrid and over-roasted. Very little flavour of the actual coffee came through, and it was quite watery as well as bitter. I would be interested to know the taste of the drip coffee in comparison to the espresso, but UBC is a little out of the way so I probably won't be back any time soon to try.
Tags: boulevard coffee, vancouver coffee, vancouver cafe, cafe review, ubc coffee, coffee, vancouver