Related entries in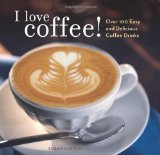 We were recently sent a coffee book by a publisher. Being coffee people, we were very excited to get it. The book is called I Love Coffee!: Over 100 Easy and Delicious Coffee Drinks by Susan Zimmer.
The book tells you about coffee, the many methods for brewing it, the global coffee trade, and of course, recipes. The first half of the book is educational, while the latter is recipe-oriented.
The educational section will tell you how to brew your perfect cup - via your chosen method - and how to prepare milk for the basic drinks. There you'll learn about a basic Latte.
The recipe section is great for the visual-recipe-hunter, like me. Lots of fabulous pictures to inspire you. Some of them are over the top on sweetness - like the "Rolo" -Way Latte - others are more subtle in flavor. The recipe section focuses on specialty drinks, flavored with anything from mint to chocolate - both hot and cold.
I enjoyed reading through the book. It's a quick read, everything laid out very simply, but quite interesting. We haven't had the opportunity yet to make any of the recipes, but when we do, we'll post a review and some pictures.
Tags: coffee book, i love coffee, coffee recipes, coffee education, about coffee