Related entries in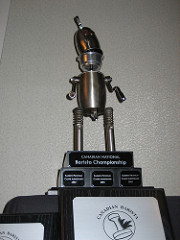 Monday I went to the coffee & tea expo to watch the result of the Canadian National Barista Championship. It was a lot of fun. Got to browse the expo, check out some other retailers, try various tea options as well as coffee, and watch the pro's do their thing.
The competition was timed, and each barista had to pull out three beverages, usually a cappucino, an espresso and a signature drink, the latter of which could be mild or quite extreme.
The judging was on everything from the coffee, to its presentation to the barista's ability to keep the work area clean.
In the end, the results stand as follows:
Colter Jones
Bob Blumer
Bob Blumer is a celebrity chef who came into the competition as a part of his new show, "Glutton For Punishment", which has him sign up for competitions in various things, from this to being a great waiter and all sorts of other food-related competitions. Sammy Piccolo, our 3 time Canadian champ, trained up Bob in 3 days, and Bob, who hadn't had a coffee in 17 years, zoomed up into 3rd place.
Tags: barista championship, bob blumer, canadian barista, barista, coffee, canada, vancouver