Related entries in

We spent a really fabulous afternoon with the owners of Salt Spring Coffee. Since we went through quite a lot of ground within our time together, I'm going to do a series of posts about our experience. Tris has given a great brief to his experience and all we did.
First off, we started with a chat at the coffee shop, locally known simply as "Roasters." Why? Because they were the first roasters on Salt Spring Island. Simple as that. But a great local flavour.
Mickey McLeod and Robbyn Scott sat down with us, and we all enjoyed some great coffees. Robbyn had a cappucino, while the rest of us simply enjoyed the "Canadianos." I won't say they were small, because they weren't. I think we got the triple shot versions. Oh yes. But you cannot deny the presentation factor: pint glasses are a nice touch indeed.
So, this post will cover my general all round coffee review. Then I'll do some story telling.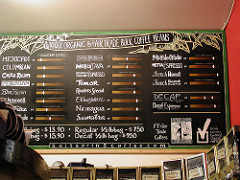 Overall, I was more impressed with the cafe and with the coffee than expected. I've had the brew locally in Vancouver, but I am seriously doubting its freshness. This was just great. We were drinking the "metta espresso" - this coffee is named for their daughter, Metta, and it means "love and kindness."
The coffee was dark but not bitter. Full bodied. Good crema. Really nice. Went down smooth. Tasted just as good as it looked. We have officially tried 6 Salt Spring Coffee varieties (including the cupping), and I liked them all. Very different, but very good each one. Plus, they are organic and fair trade.
On an off note, they were the first people in Canada to start using Java Jackets. That's pretty cool, don't you think? Now the jackets are branded, as they should be. As I found out last month, they also have cute little branded taster cups.
I was very impressed with the cafe. Great seating arrangement. Lovely murals. And, yes, good service. We've already been twice, so it was not just a fluke from being there with the owners.
Coffee: 91%
Service: 92%
Atmosphere: 90%