Related entries in
This past weekend we popped in to Steeps Tea for the first time. We've been meaning to go for a long time, since we've seen their tea around town and heard amazing things. Well, we weren't let down. With a variety of 190 teas, we had a lot to choose from!
All the teas are loose leaf and of amazing quality. If you look at the fruity teas, for example, you don't just have great smelling tea, you can actually see bits of dried fruit, or dried flowers as the case may be.
It was hard to choose a tea. In the end I tried a black tea with a kind of smoky flavour, and Ianiv had a green tea. I totally forget which ones, sorry! We did come home with a new tea, a Jasmine tea. Very fragrant and yummy.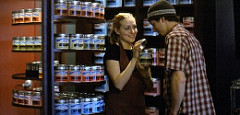 The teahouse is really eclectic. With modern furniture mixed in with antiques and a really nice atmosphere, it's a great place to go and relax. I loved that you got to pick your own teacup. Very reminiscent of going to see my Oma.