Related entries in
Starbucks today celebrated its 20th anniversary in Vancouver. The first Starbucks in Canada was opened right here in Vancouver at the Sea Bus station on Cordova Street on March 1, 1987.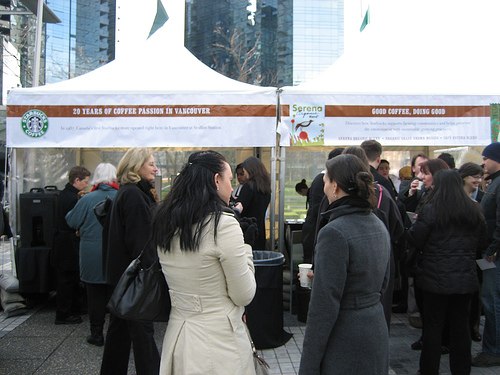 To celebrate the anniversary, Starbucks held "Coffee Fest 2007." Sadly, it was rather underpromoted. It was on the radio and you had to dig for it on the web. It is not on the Starbucks Canada website.
 Coffee Fest 2007
Mar 1, 2007, 11am to 1pm
Location: Shearaton Wall Centre-Street Level, 1088 Burrard St.
Starbucks is celebrating two decades of coffee passion in Vancouver and you're invited. Join Starbucks for a one-of-a-kind coffee experience. It's your chance to taste some extraordinary coffees and toast the SeaBus store, Canada's very first Starbucks. Coffee Masters will be on hand to share tips on brewing at home and discuss how beans from around the world differ. It's our way of saying thanks for 20 great years.
Whether we like it or hate it, Starbucks is a big part of the coffee culture in Vancouver. I went today and took some pictures, tasted a few coffees and got myself a $5 Starbucks card.
Go here to see the full picture set
Tags: vancouver, coffee fest 2007, starbucks, starbucks vancouver, vancouver coffee, vancouver events