Related entries in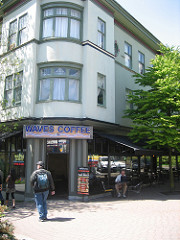 On Friday, I ushered in the summer by taking a long walk in North Vancouver. Despite the heat, I decided to go for a coffee. I went to Waves on Lonsdale and 1st.
The coffee shop was wonderfully air conditioned and beautifully decorated. There were not quite as many people there as I would expect on such a nice day, particularly considering the free wireless that is heavily advertised for all Waves locations.
Waves serves Organic Fair Trade coffee that is roasted here in Vancouver. As with all my first reviews, I had an Americano. It was made well - a very subtle taste, but nicely roasted. Definitely above Starbucks par. There wasn't very much crema to the shot, and it was a little watery, but the taste was ok. It's a place I'd go to hang out, for sure, and to enjoy the nice patio.
Tags: waves, waves coffee, vancouver coffee, vancouver