Related entries in
Take 5 Cafe Review
Arieanna & Ianiv give it 4 stars
Coffee 92%
Atmosphere 95%
Service 88%
A review of Take 5 Cafe is long overdue. I have been going to Take 5 for a few weeks now, and have never encountered a bad Americano. Actually, I've been very impressed with everything I've had there. Ianiv has noted one occassion of a slightly watery Americano, but I have yet to experience this. The coffee is super smooth with a nice whole bodied flavour. Never bitter or tart. I like that it is both bold and subdued at the same time.
I really love the atmosphere of the cafe. Slightly upscale, really comfortable, and so well designed. The materials are top notch - I especially love the little corner nook with the couches, chairs, and table. Great for casual meetings. And for that 'wow' factor.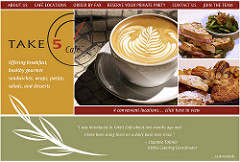 I have had food from Take 5 on a couple of occasions. I have had one sandwich, amazing bread and really outstanding and creative fillings, as well as a very yummy cookie. Roland has given high praise to Take 5 food and coffee, and I intend to go back more often for a lunch of soup & sandwich. The prices for the food are higher than most cafes, but well justified in the gourmet quality you receive.
Take 5 Café™ has been developed to satisfy the needs of today's business community. Take 5 Café™ offers healthy breakfast, gourmet sandwiches/panini, wraps, salads, baked pastas and desserts. All food items are made fresh in the Take 5 Café™ Central Kitchen and delivered fresh to our Cafes daily.

Pros
- Free WiFi
- Upscale yet comfortable design
- Gourmet food
- Very talented baristas
- Available for private parties with amazing menu options
- Run with the feel of cafe meets chic restaurant (wouldn't expect less from the Caffe de Medici crew
- one of the city's best Americano's
Cons
- Not all locations open weekends [thankfully they are all close together so you have choices]
Take 5 Cafe has four locations for you to choose from:
The United Kingdom Building
429 Granville Street, Vancouver, BC
(Granville at Hastings) [Closed weekends]
Coal Harbour
683 Nicola, Vancouver, BC
(Nicola at Pender)
AXA Place
999 West Hastings Street, Vancouver, BC
(West Hastings at Burrard) [Closed weekends]
Pacific Centre
701 West Georgia Street, Vancouver, BC
(West Georgia at Howe)