Related entries in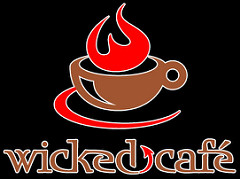 This evening we spent an hour chatting with Brad Ford, owner of Wicked Cafe. Wicked opened it's doors about 6 months ago on n the corner of 7th Ave. and Hemlock St. The cafe was born out of the idea of opening a place to sell fresh Belgian Liege waffles, which evolved into a Cafe that also sells high quality baked goods, sandwiches and tea. It's a really unique idea, and obviously one that was the product of a lot of thought, time and preparation. Brad had never brewed coffee professionally until a half year prior to opening Wicked, but he has learned from some of the best. And done many many cuppings to get an idea for how to know what is good, and then how to produce that.
Wicked cafe gets is coffee from Intelligentsia (read our post about it), and its tea from Steeps Tea. Both of which provide a very high quality product.
For those of you unfamiliar with Belgian Liege waffles, they are made with a yeast based dough and pearl sugar. The pearl sugar Wicked uses has been imported from France. The waffles are made fresh on saturday and sunday around 9am-10am but are also available the rest of the week.
Brad has some pretty ambitious plans for the cafe. Staying open later. Offering a selection of gourmet pastries. Some great sandwiches (try the egg and brie!!). And a dedication to quality coffee and tea.
I had a very good cappuccino. Brad is really committed to keeping the quality of his coffee consistent and it shows. Arieanna had an Americano, of course. She says it was very bold but smooth. Not a trace of bitterness or tanginess. Great crema. Gave her enough energy to whip out a few blog posts when we came back!
Arieanna is the one who really looks at design and atmosphere. Here is what she has to say:
"I like Wicked because it has a really great interior feeling. Cozy but elegant and chic. Lots of little conversation areas in different chair combinations, as well as some nice solid dark wood table/chair combos. The signage is really well produced, and just a touch edgy. The exterior sign references "da*n good coffee" and the interior has some nice pictures Brad took on his travels. It's a great feel. What we'd desperately love to see in Whistler. It has that upscale look but with a comfortable, stay a while feel."
The cafe also has free wi-fi as a service for it's customers, but please don't make this your study/work place, and if you have to stay for a while the staff will probably appreciate if you share your table with others.
Coffee 90%
Atmosphere 95%
Service 95%