Related entries in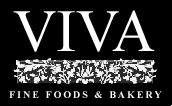 Viva Fine Foods & Bakery is a little bakery and cafe just a couple blocks from where we live. Ianiv & I have been over there many times for coffee, a sweet little treat, or just a nice lunch. The paninis are really great - but the muffins are definitely to die for.
I have neglected to ask where the Viva coffee comes from on this visit, but will do so the next time I go in.
The coffee is not out of this world, but also has nothing bad to say for it. It is well prepared and, like Salt Spring, is called the "Canadiano." It has a nice bold and subtle flavour. Not acrid in the least, which was a nice change over my last review. This was my first espresso-based coffee at Viva - I had always just gone for the drip. The drip is also very good.
The coffee seems very fresh and the baristas always seem to pay attention to what they are doing. And I've never had any server in Viva who was not overly kind in a non-obtrusive way. Very good staff.
The Viva location in Kits is not overly large. There is a bar inside to sit at or some tables outside. Nice place to go for a morning cup or to sit and have lunch. It's been months, but I still remember an amazing panini I had there with some sort of curry sauce. So good.
Coffee- 83%

Service - 95%

Atmosphere - 89%