Related entries in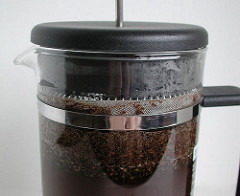 Slowly, coffee is returning to Vancouver. After the boil-water advisory for the entire GVRD issued on Thursday, many coffee shops closed down or chose to stop serving coffee.
From CTV.ca:
It is the single largest water advisory in Canadian history, and has led to widespread bottled water shortages and even a lack of coffee in the nation's caffination capital.

Many espresso machines are hooked directly into the city's water supply, and with taps spewing brown water, many baristas have shut off the flow.
To Vancouverites, this was a tough deal. But now, coffee is on its way back. We had coffee today at Elysian, and our own home tap water has gone from a murky brown to a lighter shade of yellow, a large improvement since yesterday. The boil water advisory may be lifted as early as tomorrow, but some areas can expect a few weeks before the turbidity completely clears.
From The Globe & Mail:
The decision on whether to sell coffee in Vancouver yesterday appeared to depend on the way water is distributed to coffee machines.

Starbucks and Blenz, which also decided not to sell coffee or tea, have central distribution systems that send water directly to coffee machines. Employees are not able to boil water and then manually add it into the top of a coffee maker in the stores.

A spokeswoman for Vancouver Coastal Health said yesterday it is safe for cafés to sell coffee and tea, although the taste could be affected by sediment in the water supply, even if it is boiled.

And in a statement late yesterday, Starbucks said its decision came down to taste.

The high temperatures required for its systems mean there is no risk in serving hot beverages in its Lower Mainland locations, the company said. But "this does not guarantee the quality of the beverages with respect to taste." It said its stores would resume hot-beverage service only after beverages meet an internal quality standard.

Mario's Coffee Express owner Mario Trejier said yesterday was one of the busiest mornings in recent memory at his café. It uses a traditional commercial-style espresso machine to make its coffee, with a filter system that Mr. Trejier said is safe for customers, even with the boil-water advisory. Café Artigiano was also doing a brisk business at its outlet near the Vancouver Art Gallery.
From the Langley Times:
Starbucks' outlets decided to stop selling any products made with water, including coffee, speciality coffees and teas. Tim Horton's opted to make all their coffee and teas with bottled water. The Logan Avenue Tim Horton's lineup was out the door, with at least 20 vehicles in the drive-thru lineup.

McBurney's was buzzing with customers Friday morning. The popular City cafe lost a day and a half worth of business due to the power being out.

"We had lots of calls from customers this morning, asking if we were serving coffee," said McBurney's Jessica Flanagan.

The espresso machines at coffee shops boil water to 180 degrees, which is even higher than the 100 degrees required to make water safe.
So, at this point, nobody has come down sick from the tap water, in coffee or otherwise, so the advisory is more of a precaution. Whether to buy coffee or make it yourself comes down to your personal taste and the cafe preparations of the water. I think we'll be using bottled water for our home brew until the advisory clears.
Tags: coffee, vancouver, turbidity, water, vancouver water, gvrd, boil water advisory, rain, storms, water quality