Related entries in
Coffee Culture
,
Vancouver coffee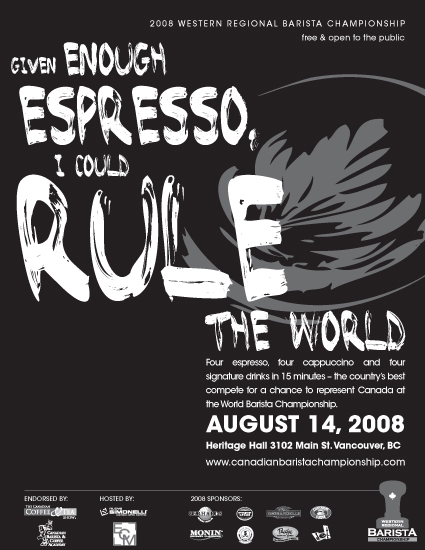 The 2008 Western Regional Barista Championship will be held this week on August 14th at Heritage Hall (3102 Main St) in Vancouver. It's a free event that's open to the public, although I can't find what the times are.
There will be at least 12 contenders competing in the western regional finals. Each competitor must prepare and serve 12 separate espresso beverages - 4 espresso, 4 cappuccinos, and 4 "signature" drinks of their own creation. They have 15 minutes to prepare all of the drinks. A panel of judges look at station cleanliness, taste, beverage presentation, technical skills and overall judges impression.
The top 3 baristas from each regional competition will go to the Canadian Barista Championship on October 21-22 in Montreal. The winner of that competition will move on to the World Barista Championship in Atlanta in 2009.
Via cleanhotdry Tags: coffee, barista championship, canada, vancouver, vancouver coffee, barista