Related entries in
Coffee news
,
Vancouver coffee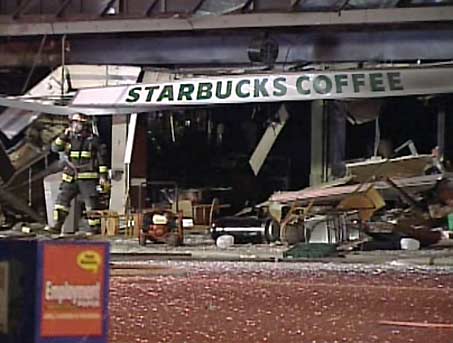 Early this morning, a Starbucks on West Broadway and Heather in Vancouver exploded.
At 2:30 am on the morning of February 13th, an explosion in the 600-block of West Broadway in Vancouver leveled several street-level stores, including a Starbucks and Taco Del Mar, and did some damage to the London Drugs across the street. The noise and shock wave awoke residents for many blocks around.
No injuries have been reported, and no structural integrity issues have arisen as a result of the explosion.
Police and fire crews are investigating what caused the explosion and whether or not it was deliberately set. Police Spokesman Constable Tim Fanning said that arson investigators are calling the explosion "suspicious." Eye witnesses are reporting a man running from the area after the explosion. That said, fire investigators are looking into a possible gas leak at Taco Del Mar as the source of the problem.
You can view more photos taken by a local resident here.
Via canada.com, canadian press, aol Photo credit: THE CANADIAN PRESS/Jonathan Hayward Tags: starbucks, explosion, vancouver, broadway, fire