Related entries in
Coffee Reviews
,
Vancouver coffee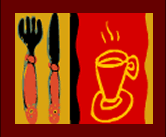 Raul of hummingbird604 passed over a guest review for The Edge Cafe in Vancouver, just off of Cambie and Broadway. Here is Raul's review:
"Had an opportunity to share a coffee with Jonathon Narvey and, while I did recall I had swung by once a long while ago, I had never had a chance to spend any time there. Since I'm a big supporter of local business, I thought I'd write a review. Particularly since I was SO positively impressed with it. And to be fair and balanced in my review, I should also point you to mixed reviews on DineHere.
The Edge Cafe looks very much like a chic, sophisticated restaurant. But the funny thing is, while it's rather posh and nice looking, customers seem to come from all sorts of avenues of the world. And the prices are NOWHERE near the ultra expensive ones. They have created a "menu for the economic crisis" with soup and a sandwich for $ 6.50. That's lunch, and that's probably as inexpensive or in the neighbourhood of Wendy's or Tim Horton's.
They also seem to have wireless, although I'll admit the laptop I am currently using didn't want to connect to any of the networks. So, I'll believe it when I see it :) Finally, I should also point out that while I see very comfy couches and chairs, I don't know whether they have enough power outlets to sustain as many people wth laptops as, say, Waves.
The Edge Cafe is spacious and well illuminated. The restaurant/cafe has a lot of windows and amazing natural light. The coffee was actually really good, I have absolutely no complaints about that. Despite the fact that I wouldn't work here for an extended period of time, I would be more than happy to try The Edge Cafe for brunch sometime. Anyone want to join?"
Thanks to Raul for the review! And don't forget to hop on by his blog. If you have a guest review of a cafe anywhere in Vancouver (please don't review a cafe you own or work at!), I'd love to post it! You can reach me by email.
The Edge Cafe
2450 Yukon St, Vancouver
Tel: 604-876-7228