Related entries in
Vancouver coffee
A few months ago, we posted a review of Moja Coffee, a cafe that recently opened in North Vancouver (map). Moja has been roasting for many years, but only recently opened their cafe - and even more recently opened said cafe on Saturdays! You can see us there most Saturdays grabbing some fantastic snack (I'm partial to the Thomas Haas pastries!) and a coffee. Well, a decaf for me these days ;)
This Saturday, Moja is celebrating their new patio with an Open House from 9-5pm. Here's the ad for that: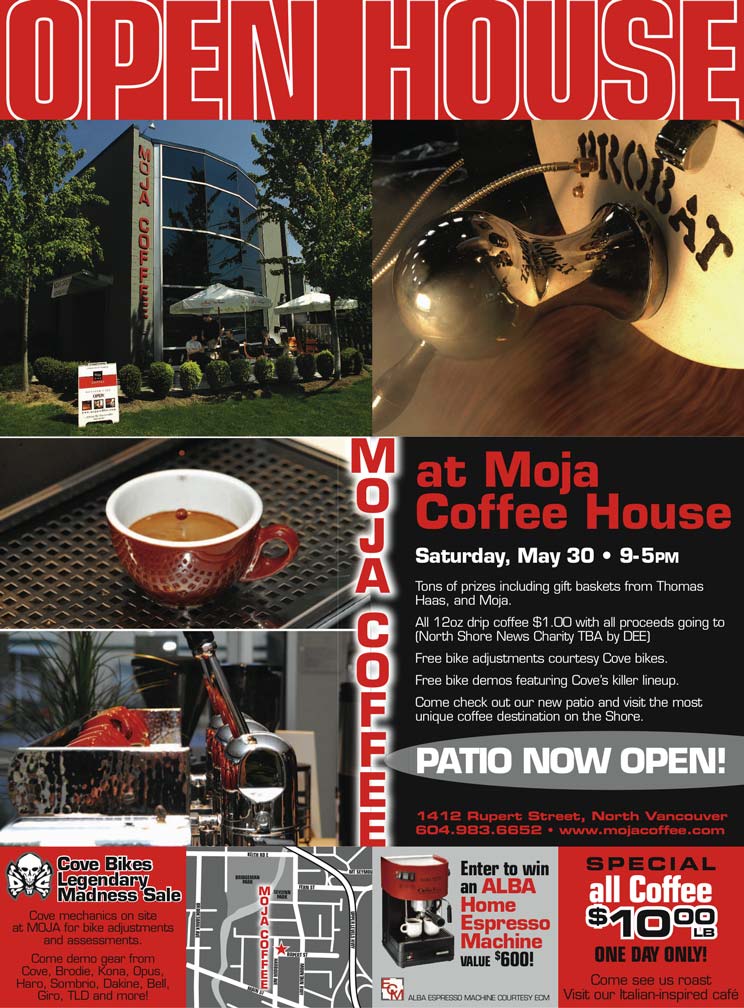 Moja is a great addition to North Vancouver. We really enjoy going in there and are always warmly greeted. You may need to wait a little longer for your coffee, but stand back and enjoy the process. The espresso beverages are made on a handmade Victoria Arduino lever machine. All the coffee is small batch roasted on-site in their Probat coffee roaster, which you'll sometimes be able to see at work from the window in the cafe. Doug, the co-owner of the cafe, explained to us how they had modified the machine to get the temperature gauge just right, and it's that attention to detail that always impresses us in a cafe. Our favorite cafes all across Vancouver show a similar passion for coffee - because it's passion that makes a great cafe, not just the coffee being served!
If you're at Moja during a quiet time, make sure to ask your barista about his signature drink. If Doug is there, maybe he'll make you his cocoa zucchero - a heavenly combo of Thomas Haas chocolate and espresso.